Predictive Call Center Analytics- Top Use Cases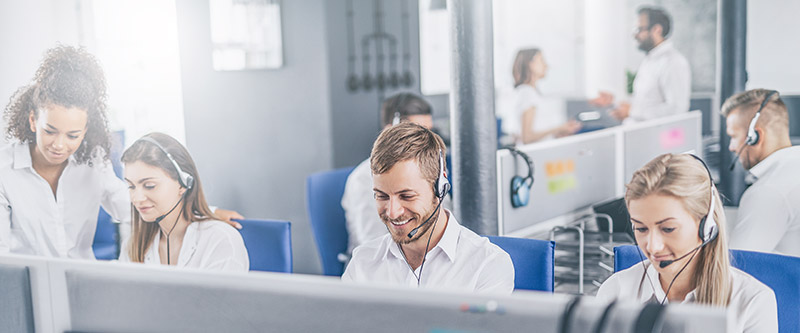 With one eye focused on delivering excellent customer support and the other on efficiency, a call center needs robust mechanisms to get actionable insights on their everyday operations. Predictive call center analytics has opened a new realm of opportunities for the call centers. From automating key processes like quality assurance to identifying training needs and predicting customer behavior, call center analytics have brought in a paradigm shift in the way call centers operate today.
Cross Process Analytics for Agents
Unified analytics from all the channels being used within the organization enables call center users to get a 360-degree view of all KPIs. From the number of calls answered across processes to call duration, disposition, and quality, everything can be analyzed in a single dashboard. Team managers and agents can get a complete flow of actions on a given account in a single click with indicators on what was missed where. They can drill down to individual calls and view quality scores in real-time, thus enabling instant feedback for the agent. Insights on how agents handle similar queries in one process vs others bring out valuable patterns and actions to further improve service performance.
Real-Time Performance Insights
Call center analytics delivers real-time insights on metrics like Average Handling Time, SLAs, Drop Rates, etc. And provide instant input on what is happening where. Users can drill down to understand exactly when the service level was not met and what attributes were associated with it. Users can also compare various KPIs based on different time intervals. This comparative analysis provides insights on which time intervals had low service and gives indicators on factors that are causing this. For example, team managers can identify if the service level dropped during a given time interval due to low headcount, dialler issue, or any other factor and can take corrective actions promptly.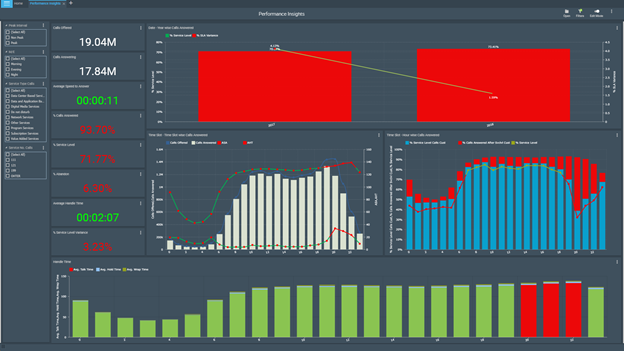 Strategic Vision with Predictions
Call center analytics enables users to easily assess what could be the probable call volume in the next hour, day, or the week. They can look SLA trends based on the analysis of KPIs like agent headcount, ASA, AHT, etc. With predictions on the probability of meeting SLAs and the corrective actions, they can plan the course of future actions strategically. Users can also perform what-if analysis on KPIs to know the changes needed to improve the overall performance. With analytics, call centers can generate insights on what will happen next, across all processes and prepare for the future today.
Customer Retention Insights
Understanding customer behavior and analyzing their future actions with predictive analytics has enabled call centers to improve customer retention.
By analyzing call data, speech data, agent score, dispositions, customer responses, and more, call centers get detailed patterns of how their customers behave across processes and agents. These patterns give indications on how likely a customer will end the relationship with the organization in the future. Identified customers can be flagged or kept in a high priority bucket so that they can be addressed effectively. Call center users can define strategic action plans to nurture these customers and retain them for longer.
Intellicus solution for call center enables organizations to assess their performance in real-time, identify bottlenecks, and address them proactively. It also helps them to unravel opportunities associated with different KPIs resulting in better performance, higher customer engagement, and reduced costs. Watch a video on our call center analytics solution here.